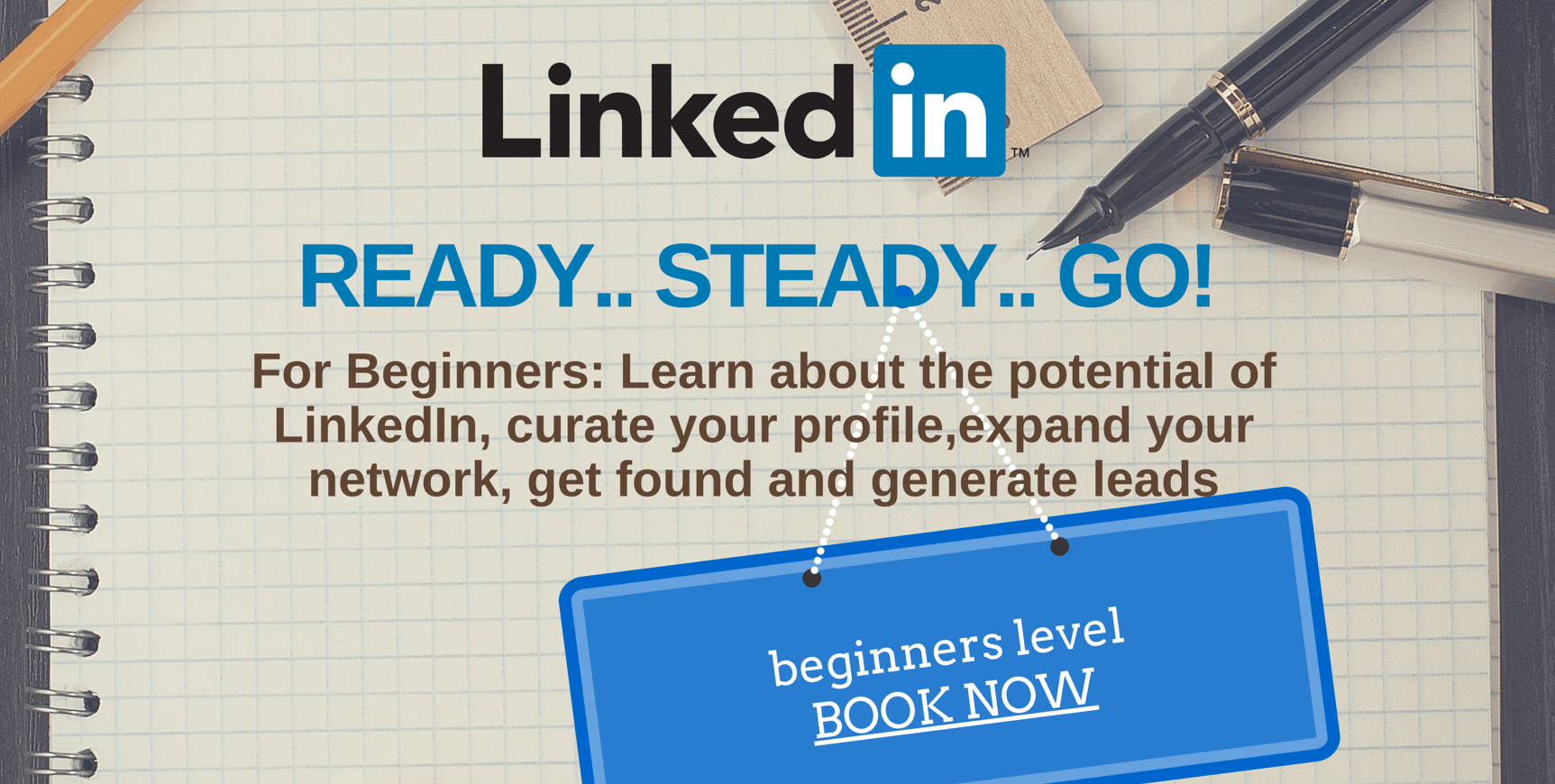 Ready Steady Go!
LinkedIn Training for Business-Beginners
Our beginners Linkedin training for business is a one day workshop (from 10 am to 2 pm) for someone who has a basic profile or does not use LinkedIn on a regular basis. You will get to work on your profile at this workshop and get familiar with the key functionalities of LinkedIn by trying it out yourself.
In this training session, you will build your 'killer' profile so that you will stand out, and be found. We will also cover what LinkedIn is about including how to maximise LinkedIn without upgrading your account, maximising the power of LinkedIn, finding the right connections and generate quality leads.
If you own a company, learn how the company page works and what you need to do to make the most out of the LinkedIn advertising platform.
Selected businesses may qualify for government funding. Please contact us if you are interested in exploring this further.
What you will learn:
How LinkedIn works
LinkedIn etiquette – what to do and not to do
Step by step on how to get the most out of LinkedIn
Why a good profile is important and why you will be too
Craft and optimize your profile on LinkedIn
How to get yourself found on LinkedIn
How to generate, manage and nurture relationships and leads through LinkedIn
Examples of best practices and companies successfully using LinkedIn for lead generation
Your business page and how it works
Ways to maximise the LinkedIn advertising platform
Who should attend:
If you are in a sales or business development role and are responsible for generating leads for your business
You are an occasional LinkedIn user, are unsure of what to do or how to get the most out of it
You are a business owner or responsible for the marketing of your company and unsure how LinkedIn and a company page can help your brand or business
If you know you need to be on LinkedIn but you haven't put much thought into your profile page and unsure what is best to do here.
You keep receiving invitations to connect but don't know if LinkedIn is any use to you
Afterwards you will be able to:
Have a LinkedIn profile that is optimized for your target market
Use LinkedIn confidently to extend and monitor your network and connections
Use LinkedIn to search, connect, nurture and generate leads and opportunities
Be visible to and be found by those interested in what you are able to offer
Know when to post an update or an article to stay top of mind and reach new audiences including your target market
Promote and utilise LinkedIn advertising platform for your company
Build your credibility and confidence in others searching for you or your services.
Read what others have to say
"All of it was very useful – especially the intros, updates, posts and profile tips"  Adair Good, Essential Coaching

"I can't think of anything that needs to be done differently. It was very clear, professional yet relaxed. It was very informative and helpful – thanks" Lisa Mandic, Active Management Group

"I found the step by step details on how to maximise LinkedIn very useful" Andrew Thomas, Thomas Law
Click here to read more rave reviews
WHEN: Wednesday 31st August 2022
TIME: 10 am to 1.30 pm
VENUE: Cider Building, 4 Williamson Ave, Auckland 1011
This is a small group format with limited spaces
COST:
Option 1) $495+ gst (LinkedIn Workshop)
Option 2)  $575+gst* (LinkedIn Workshop + 3 x 30 minutes follow up calls to help you with implementation)
 *Split payments available upon request