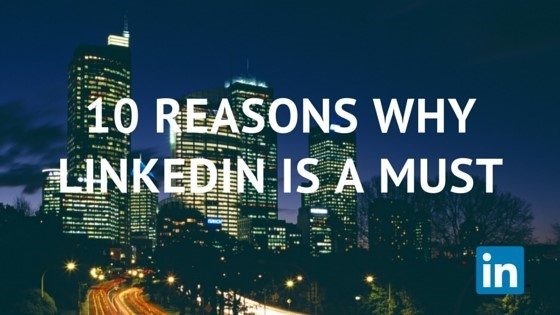 If you're reading this, it's probably safe to assume you've heard of LinkedIn. Whether you have an account or received invitations to connect or have had discussions about it with friends or conferences. You may be unsure on what to do next or may be questioning what are the benefits (if any at all) of being on LinkedIn. Well, here are 10 reasons of many as to why you should use LinkedIn and why it has risen to be the most powerful business social media platform in the world.
1. In business? Anyone wanting to buy from you will check you out first
No matter whether you are selling directly to the end user or to businesses, people want to buy from someone they are comfortable with and is confident about their offering. It is highly likely that they would have searched online for you or your company name before engaging with you any further. LinkedIn can help you attain a presence on a professional social media platform and move the potential client a step or two closer to a sale.
2. Build your brand
This is your opportunity to promote yourself for what you are good at and want to be known for. LinkedIn provides you with the opportunity to have a 'show room' for your ability and skills. Unlike your company or your own website or blog, LinkedIn standardises the information it collects that makes it very easy to compare abilities, skills and knowledge of individuals on LinkedIn.
Furthermore, for someone searching for a person who fits specific skills, industry or professional experience, LinkedIn not only has a large pool of users (1.33 million LinkedIn users in New Zealand so far) it also has a super easy and refined search tool to hone in on the right person.
3. Trust and reputation
In New Zealand, word of mouth and recommendations are the foundations for businesses. With LinkedIn, you are able to have recommendations from others visible for all to view at any time.
Another great thing about LinkedIn is that as an open social media platform, recommendations are highly credible as it links the recommendation to the recommender which can only be generated by them, so the chance of these being fabricated are very low.
4. Open up your career opportunities
Did you know that over 90% of recruiters will scan your LinkedIn profile as part of the recruitment process? It's essentially a playground for employers and recruitment agencies. LinkedIn is very effective as a tool for locating talents and tracking movements of potential candidates. So if you're an employee, if you haven't hopped on the bandwagon it's, fast becoming a compulsory platform for you.
5. Nurture and generate leads
We all get cold colds. Faxes, spam emails and recorded sales messages every once in a while. Likewise, it is happening on LinkedIn but don't let this put you off. Sure this is a terrible way of using LinkedIn (and giving the platform a bad name) but if done right, LinkedIn can generate you leads. In a research conducted in 2014, 80% of all social media business to business leads are from LinkedIn.
So how do you do this? Nurture the relationship, provide value time and time again and it will no longer be selling, they will be buying from you.
6. Go beyond your regular network and find distributors, partners and providers
LinkedIn, just like other social media channels allows us to reach beyond our normal circle of influence and network. It bridges countries, occupation, age and more. LinkedIn even has an amazing, magic ability to accurately put before you people you may know!
This has numerous advantages including searching, finding and connecting with those in similar industries, complimentary functions or potential partners to grow your career or business.
7. Fountain of knowledge
With LinkedIn Pulse, the content publishing platform, there is a wealth of information that can be found on it. Sure, it suffers from the usual sieving through to find good quality content but if you're like me, the notifications go into a separate folder in my inbox and it's just a quick and simple scan to find the really good stuff!
Also, keep in mind you can use this platform to publish your own content and this will be added to your profile and build your reputation further.
8. Keep up to date on what's happening in your network
It's a simplified version of a CRM (Customer Relationship Management). Being easy to track where a client, colleague or friend is currently job-wise, celebrating a birthday or work anniversary or even move countries. Best of all, these notifications are delivered to your inbox every morning and you don't even have to set a reminder – of course there is the ability to set reminders from LinkedIn too if that's what you're into.
9. Groups- interest/support
There are a range of interest and professional groups on LinkedIn. These are great places to connect with like-minded people, share your thoughts, start a discussion or simply ask for help. You can join up to 50 groups which often helps to grow your network and again reach out beyond your normal circles.  Oh yes, if you can't find a group that suits you, then start one!
10. This is the future- be that early bird who gets the worm!
Already over half the New Zealand working population are on LinkedIn and right now, from recruitment agencies to career councillors, tertiary students are being told to have a profile on LinkedIn if they want to be found and progress their career.  Furthermore, there are no other competing business social media that competes and is anywhere close to the size of LinkedIn. I can safely place my bet that LinkedIn is here to stay.
Compound this by the fact that a key algorithm of LinkedIn is that you are only visible to three degrees of separation and through the groups you join, so the earlier you join and start extending your network, the more visible you become.
So, what are you waiting for?
Enjoyed this article and want more? Sign up now to our marketing snippets!
If you've found this article useful, please share it with others.