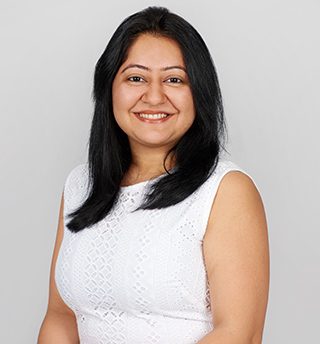 Dolly – Media and Ethnic Marketing Specialist
Marketing & Media Consultant by profession and an artist by heart – Dolly knows how to finely balance her left and right brain!
Her expertise lies in helping businesses with their overall marketing strategies with specialist experience in advertising and media marketing management (ATL + BTL) right from user journey to the final conversion. She is all about people and has a knack for understanding consumer behaviour and how it impacts purchase decision for mainstreams in general and Indian community in particular – she knows what makes them tick!
Dolly holds a Bachelor's in Business Administration with Marketing major; and double Post Graduation – Digital Marketing from Squared Online/Google & Public Relations + Corporate Communication from Mumbai University; and is certified in platforms and digital tools such as Nielsen, Hootsuite, HubSpot, Google Analytics, SEO and AdTech.
In her spare time, she can be found painting, poetry writing, trying new adventures or networking!
The Passionate
The Passionate and forever curious soul is what Dolly is. As much as the entire Marketing gamut (storytelling through results) lights up her eyes, so does talking about business, technology, education and anything India!
She is known for her work ethic and always goes that extra mile for clients!
Dolly in 3 words….
Enthusiast
Strategic
Diligent