Reading time: 4 minutes
Published: 2022 | Author: Elsa Sun
The Chinese population is vast, accounting for more than 1.4 billion people and roughly 21% of the global retail market.  However, breaking into the Chinese market isn't as simple as setting up ads on Facebook or Google as they don't exist in China and they are not the go to platforms for Chinese living in New Zealand! As a result of this, to be successful in the Chinese market sphere requires not only an investment of money but also time, in learning how to navigate the unique Chinese marketing ecosystem.
We have untangled the enigma that is the Chinese market, and compiled a comprehensive whitepaper, so that NZ businesses can have an understanding of Chinese behaviour, the significant role that WeChat holds in the lives of every Chinese and most importantly the top strategies to marketing to Chinese living in New Zealand.
As a specialist WeChat marketing agency in New Zealand, we have compiled this white paper to provide in-depth intel on aspects including the following:
Understanding the Chinese community 

Chinese social media marketing trends

Overview of WeChat and marketing on WeChat

Top marketing strategies to reach Chinese in New Zealand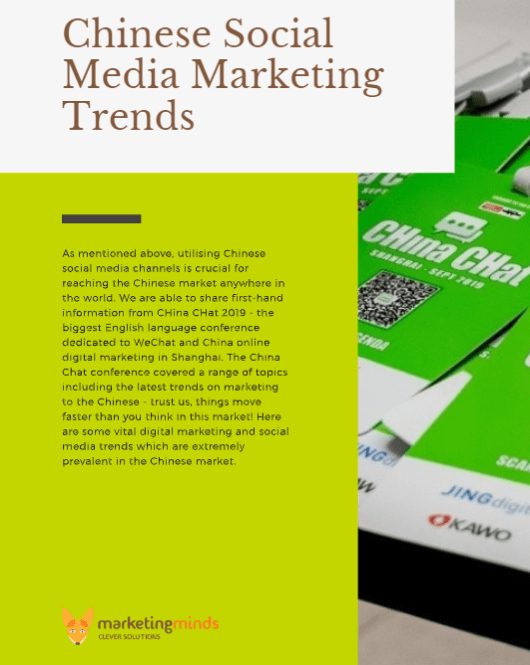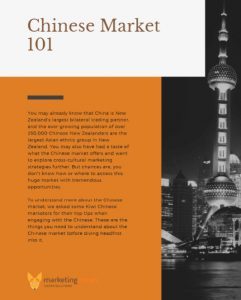 If you'd like the full version, please fill out this form and we will send you the complete guide to understanding Chinese in New Zealand and WeChat marketing.
If you want some more personalised advice on reaching your marketing objectives, or if you have any other questions, call us at +64 9 6344 390, email info@marketingminds.me or contact a Marketing Minds marketing consultant.
Interested in understanding more about marketing channels and lead generation? 
Here's your smorgasbord!
Understanding social media marketing 
Enjoyed this article and want more? Sign up now to our marketing snippets!
If you've found this article useful, please share it with others.