On the go? Listen to an audio recording:
Reading time:  10 minutes
Published: September 2019 | Author: Anne Casey
N

ews from

CHina

 

CHat

 conference

 – 

Shanghai

, 

Sep

tember 19
Anne and Lizzie recently attended the CHina CHat- the biggest English conference dedicated to WeChat and China online digital marketing including  latest trends on marketing to the Chinese. Trust us, things move faster than you think in this market! From WeChat mini programs to loyalty and the importance of 'binding', private traffic , 'new retail' strategy to customer engagement at an insane number of possible touchpoints. 
We will be writing more on this over the next few weeks but in the meantime here are a few of our initial observations direct from the experts on the ground in China.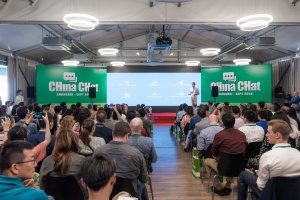 1. Private Traffic
Matthew Brennan from China Channel introduced us to the hottest marketing topic currently in China – Private traffic.
In the western world, we know this as 'owned traffic'. So what is owned traffic? This is an audience that you have access to without having to pay. The difference is that in the Western world, we typically know this as email subscribers, Facebook fans and website traffic.
While in the Chinese eco system, private or owned traffic refers to your WeChat Official Account followers, members of WeChat groups you manage, followers on Little Red Book or your Weibo subscribers. This will include customers that have bought from you and brands interact with them typically via WeChat rather than emails.
Also, similar to the Western world, there is a move towards private groups rather than open forums. Similar to WhatsApp and Messenger groups, WeChat groups are where many of the active conversations are happening.
Key takeaways:
So, what does this mean for NZ companies?
It reinforces the fact that the same area of growth and principle applies to the Chinese however the types of private traffic are different.
Furthermore, with regards to WeChat groups, a key difference is that in WeChat from brands right through to businesses as well as family and friends- WeChat groups are very common. As a result, there are hundreds and thousands (if not millions) of groups within WeChat and how interactions happen varies depending on the type of group.
For example, a brand may form a group for their resellers and share brand content, exclusive offers and act as a general customer service portal. This doesn't happen in Messenger and is just starting up in WhatsApp as it becomes more a customer service platform for businesses.
2. Brand Loyalty
"Chinese loyalty is very fickle and brands need to be in constant courtship." – Jean-Baptiste Le Blan, Splio.
There is a lot more brand loyalty in the English speaking world. Why is that? Is it all about price with the Chinese? Here are the reasons why Chinese tend to be fickle 
There is no legacy of brands in China – typically there are no traditional brands which have gained a loyal following over time. This is because historically in China, there was a void of brands while it had a closed economy… until the aspiration of big Western brands made it across the border. E.g. Coke, iPhone, Nike. 

Now in China they are spoilt for choice – there are millions of brands 

within 

their reach, with thousands more being created daily. These factors make it easy to lose customers, however there is always a chance to win them back.
In our opinion, this is how you build and retain loyalty in the fickle Chinese market: 
It's important to understand that Chinese tend be 'sale' shoppers, with the idea of getting a good 'deal' playing a big role in their shopping decisions – this is also part of the culture. 

It's all about the experience. Chinese are into the latest, most interesting, hyped up products, which all contribute to a shopping experience. Therefore

,

 you have to market an 'experience' in order to 'bind' customers, it's not simply marketing just the product or brand. 

Marketing efforts have to be 'always on' as brand loyalty is low. Don't let it be out-of-sight and out-of-mind, instead remain top of mind and the preferred brand. 

These techniques also apply to the Chinese in New Zealand and especially relevant to those who have been here as young adults, their background is no different to those in China. As such, New Zealand brands need to communicate to them in 

Chinese and 

engage

 through relevant experiences that they can relate to.
And more on loyalty when targeting the Chinese on social media….
Here are 3 major principals of NEW loyalty marketing:
Everyone is a member – all customers, prospects, walk-ins, followers

Everything is sharable – product info, coupons, rewards, offers, events, points

Every interaction is rewardable – visits, views, likes, shares, comments, purchases, adds and recommendations. You have to reward people at many different touchpoints, throughout the whole customer journey. 
"Loyalty starts at the first interaction, not the first purchase" – Jean- Baptiste Le Blan from Splio
Key takeaways: 
Brands need to 'bind' everyone. To achieve this, you have to review every touch point.

To ensure maximum sharing

 of content

, you need to know about the customer during every stage of the customer journey; this includes their behaviour and who they are. 

You must also reward each interaction throughout the process. Rewards don't necessarily have to be a discount or free gift, it can simply be recognition or kudos given

. This is quite unique to the Chinese – don't underestimate it's power.
3. The power behind WeChat
WeChat is still the main social media and communication channel in China. Not to be ignored and definitely to be understood in depth if you are wanting to sell to and engage with the Chinese – and that includes those in New Zealand!
These are the reasons why Mark Zuckerberg wants to be like Tencent (parent company of WeChat)–
98% of Chinese netizens use at least one of Tencent's product

This accounts for 60% of their online use 

We

C

hat alone makes up 1/3 of China's total online traffic 

Tencent's big data has approximately 8000 different types of tags and datapoints

Tencent has mobile solutions from social network (QQ, WeChat) to entertainment (

eg

 QQ game, QQ video)

,

f

rom information (Tencent News, Tencent Sports) to software & tools (

eg

 WeChat Pay, Tencent maps) and of course life services too (

eg

 Didi- similar to Uber but better and 

JD.com

) 

WeChat is 

really the

 only Chinese platform that allows brands to cover all touchpoints along the customer journey

 – hence it's incredible power;
discovery – research – purchase – payment – delivery – after sales
Speaker: 
Houfer
 Chen, Tencent Smart Retail
Key takeaways:
WeChat isn't going anywhere even though there are other apps and platforms that are rising in popularity.
Understanding where Tencent is  focusing their efforts is where the opportunities lie.
4. Five

 Chinese Social Media tips Kiwi brands need to know
Jenny from Walk The Chat presented a number of trends at the recent ChinaChat 2019 conference. Here, we've summarised these keypoints as it relates to NZ brands looking to export or grow their sales and awareness in China. 
Even 

though WeChat is still 

the 

dominant social network, 

Douyin 

(

TikTok

) is now also a main player and for overseas brands, 

Xiaohongshu

 (

RED, or 

Little Red Book

)

 is key too. However, WeChat remains

 as 

the number 1 network in 

terms of conversion rate for higher priced p

r

oducts

.

Growing organic traffic from WeChat and 

Douyin 

is very challenging and often brands rely on KOL (key opinion leaders) and KOC (key opinion customers) in the first few years for visibility and growth. 

A well-considered strategy and budget is 

necessary

 if investing in this area.
The rise of K

OCs 

is as important as 

KOLs (

Influencers) in the Chinese market. This is no different to 'brand ambassadors' in the English speaking world whereby 

KOCs 

are customers who may have a strong social media following 

and are therefore 

able to amplify your marketing efforts for you. The key is to identify them, engage and reward them.

Seeding products with KOLs is now an essential part of building relationships with them, however on its own

, 

seeding will be insufficient.

Ideally it should be

 supported by paid campaigns. It is also key to choose KOLs wisely and to have a strategy on the number of KOLs selected and a realistic notion of what they can deliver in return. 

Cross platform engagement is growing rapidly as brands maximise each touchpoint in the customer journey. For example

,

 a product launch may start off in WeChat with transactions completed in e-commerce platforms such as 

Tmall

 or JD mall, while order tracking and rewards are conducted back within 

WeChat

 itself. WeChat is much 

much

 more than social media

. The increasing use of WeChat

 mini

programs 

is proving very successful for brands wanting to extend their ability to increase engagement through loyalty, sales and 

customer service platform

s

 and 

as a 

communication tool. 
5. 

Latest WeChat statistics 2019
Kawo is a social media management platform for Chinese platforms mainly WeChat and Weibo. They shared their recent analysis of over 500,000 posts published using the Kawo platform for WeChat and Weibo between August 2016 and July 2019. Here are some key stats to answer the following questions: 
Q: Is engagement declining on WeChat & Weibo?
Focusing on WeChat Service Official Accounts only, follower growth has increased from about 3% in 2017 to 5% in 2019. However,'unfollows' have also increased from about 1% in 2017 to just above 2% in 2019.  Hence the net new followers in 2019 is an average of 3%. 
However, engagement rate (calculated as percentage of current followers reached) has declined from 12.5% in 2017 to 11.7% in 2019. 
Q: How many WeChat articles should you publish?
Only publish when you have some great content to share.  It was consistent in the findings that the net effect of articles with 'good to amazing' reach have net followers growth of 2.18% to 8.7% respectively.