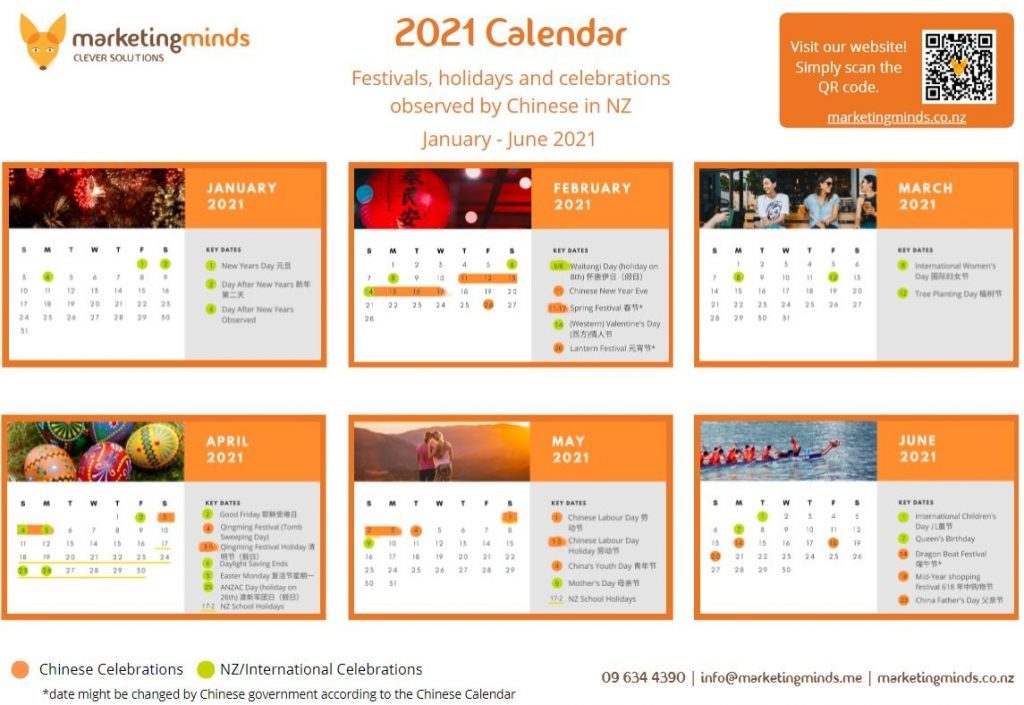 Highlighting Kiwi-Chinese Celebrations and Holidays Through Cross-Cultural Marketing
As an increasing number of Chinese migrants are coming to

New Zealand

, significant Chinese festivals can prove a fruitful marketing opportunity as different cultures celebrate different events and holidays.
As a result, we have put together a comprehensive 2021 calendar which highlights both Kiwi and Chinese celebrations. To be relevant to migrants, you can select the relevant events from either culture to widen your marketing scope.
This may help you improve your Chinese social media marketing and WeChat marketing strategy.
Fill in this form and download a high-res version of the 2021 NZ-Chinese marketing calendar.
If you want some more personalised advice on reaching your marketing objectives, or if you have any other questions, call us at +64 9 6344 390, email info@marketingminds.me or contact a Marketing Minds marketing consultant.
Marketing to Chinese in NZ – helpful 2022 calendar
Interested in understanding more about WeChat marketing and cross-cultural marketing?
Here's your smorgasbord!
Cross-Cultural Marketing Research insights
Cross-Cultural Marketing Research Insights 
WeChat Digital Marketing Trends 
Enjoyed this article and want more? Sign up now to our marketing snippets!
If you've found this article useful, please share it with others.