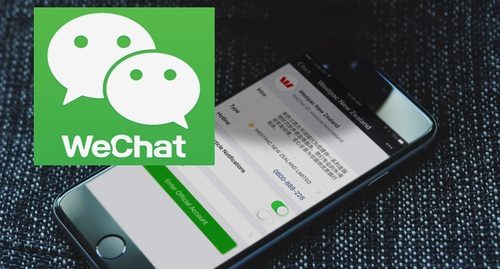 On the go? Listen to an audio recording:
Reading time: 8 minutes
Published: 2018 | Author: Anne Casey
You may have heard of WeChat but you probably didn't know that it is now the most heavily used mobile app in China. In fact, it is probably the most used mobile app among Chinese speaking communities globally. This makes WeChat marketing a field of opportunities to capture the Chinese audience. Its parent company Tencent is one of the largest internet business, and in May 2017 it entered the list of top 10 most valuable companies in the world.
WeChat is more than a social media app. It is THE most popular communication app along with a mobile payment and the most popular social media channel. The other unique feature is that Chinese are comfortable using WeChat not only for personal communication, but also business interactions. WeChat is sometimes referred to as the 'swiss army knife' application because of it's all inclusive functionality combining everything from messaging, chat, phone calls, audio messages, payments systems, e-commerce, gaming and more.
This is something that can be difficult for us Kiwis to grasp as there is nothing quite like it in the English speaking world. Imagine WeChat as an app that is mainly Facebook with communication and group features just like Messenger or Whatsapp. Throw in the photo and video capabilities of Instagram and add a dash of mobile pay along with a sprinkle of booking.com. Oh yes, for businesses, don't forget to stir in livechat, mobile shop and analytics! Have a look at this comparison table of the functionalities of Facebook, Messenger, WhatsApp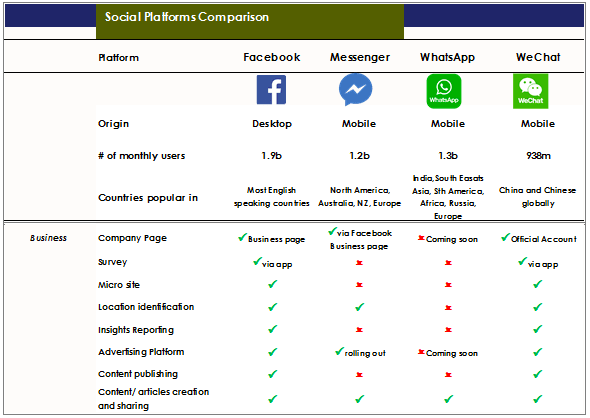 The great thing about all this is that New Zealand businesses can now benefit from the recent introduction of WeChat services through local Kiwi WeChat service providers rather than those based in China or internationally. This opens up MASSIVE opportunities for brands to actually capitalise on the fast growing and lucrative Chinese speaking tourists, students and 'Chiwis' (Chinese Kiwis i.e. migrants). Right now, the awareness and knowledge is still pretty limited regarding how to market to this ethnic group and the winners will be the brands that are first to market.
So, let us simplify it and share with you three key things that every NZ brand should know about WeChat
1. WeChat is BIG business
There are 938 million monthly active users. This is close to Facebook's Messenger and WhatsApp apps, which each has 1.2billion active users globally.
Consider this in light of the fact that the number of Chinese in New Zealand is significant and will continue to grow.
400,000 Chinese tourists per year
Approx 260,000 Local Chinese residents (I'm sure you'd have noticed that the face of Auckland has changed dramatically. I remember when I first emigrated, we had to travel to Otahuhu just to get my noodle fix! )
30,000 International Chinese students per year (some of them stay on in NZ, and many travel to and fro to China regularly)
This presents a significant market size opportunity of highly engaged users for brands to target in New Zealand. For the most Chinese migrants, WeChat is engrained as part of their daily lives- fuelled by the language barrier and the ban by the Chinese government on Facebook, Google and others, means that a parallel IoT (Internet of Things) eco system has emerged.
What this means for Kiwi businesses…  
Forget about trying to targeting the Chinese via traditional Western methods such as on Facebook, NZ Herald or Google. Businesses need to fish where the fishes are- for the Chinese globally, it is WeChat. For Chinese in NZ, if searching for NZ websites, it is Google- but using Mandarin as the language setting and Chinese media. Oh yes, you can generally forget about email marketing too- it's all on WeChat.
2. WeChat is MORE than just social
The most amazing thing about WeChat is that it has managed to establish itself as the must have app in the lives of the Chinese that it is the first go-to communication tool. Try this.. send a Chinese contact (doesn't matter if it is a business or personal friend) an email, and the same message on WeChat. You'll see that you will get a reply back almost instantaneously on WeChat while on email, it will take a few hours!
Have a look at 'a Day in the Life' with WeChat..  
(Yes, Asians do tend to sleep late and wake up late- including their kids.. )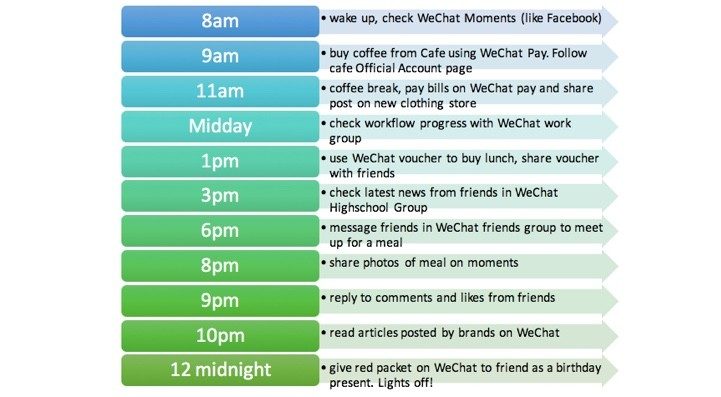 What this means for Kiwi businesses…
In the Chinese community WeChat has managed to become a full cycle of opportunities for businesses. Brands can influence and educate through articles published from their Official Accounts through to incentivising action by issuing WeChat vouchers.When a voucher is redeemed at point of purchase, NZ businesses can now transact using WeChat Pay which charges the user in RMB while the business receives it in NZD (this is especially powerful for students, new migrants and tourists that are not earning NZD). After the payment is completed, they are given the opportunity on their mobile phone to follow the WeChat Official Account of the business and share their experience on moments or be issued the next voucher for a return visit!
Are you getting the idea? Imagine the endless opportunities this creates for NZ brands!
3. WeChat is THE BIG opportunity
WeChat is the only platform to effectively engage with the Chinese consumer in NZ and reaches beyond the boarders back into China and globally. As previously mentioned, the behaviour of a Chinese in terms of how interaction and communication happens is extremely different from their Kiwi counterparts. Furthermore, with Tencent's (parent company of WeChat) strategy of solidifying their position as the go-to app for the Chinese travelling or living abroad, New Zealand is fortunate to be one of the first countries that Wechat functionalities are enabled even ahead of USA! This has created massive opportunities for NZ businesses that are willing to invest in this fast growing and lucrative segment.
What this means for Kiwi businesses…
So far, only a few New Zealand brands have understood or have taken advantage of this– until now…
Brands that include the Chinese market as part of their customer base will win by developing a WeChat marketing strategy sooner rather than later. Some NZ businesses have already begun. Finance (Westpac), tourism (Visit Rotorua), retail (Mrs Higgins), Government (NZ Police) and telcos (Vodafone) are already actively promoting their brands via WeChat with the larger ones now incorporating WeChat into their annual marketing strategies.
Setting up WeChat Pay will be the first, and most simple step for many businesses to allow their Chinese customers pay for goods or services via their Chinese bank accounts. By adopting a WeChat marketing strategy beyond just payment, local businesses will be able to offer deals, advertise goods and services and even sell products directly via WeChat.
The time is now for NZ businesses to take action!
To learn more about the NZ Asian market and WeChat marketing, or if you have any other questions, call us at +64 9 6344 390, email info@marketingminds.me or click here to contact us.
Enjoyed this article and want more? Sign up now to our marketing snippets!
If you've found this article useful, please share it with others.